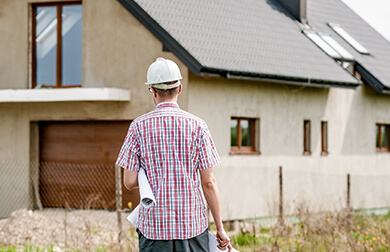 How to Choose the Right Roofing Repair Company
If you're a home or business owner, you know how important it is to pick the right professionals to work on your property. This is even more important when you're working on big jobs, like roof repair or replacement. How do you know you've found the right person to do the job? Who can you trust? How do you know your project is completed safely and correctly? One of the biggest obstacles home and business owners face is when they are looking to fix or replace their roof. Roofing repair is a big job and can be quite an investment. Natural disasters, storms, and other damage can leave you needing to find someone fast. While time may be of the essence, you still want to make sure you made the right choice. Choosing the wrong roofing repair company can no only cost you more money in the long run, but it can also leave your property and those around you in danger. As a trusted provider of roofing services in Texas, we weigh in on how to choose the right company and essential questions to ask before you hire someone for the job.
Why Is It Important to Choose the Right Roofing Repair Company?
If your roof has been damaged or is starting to show signs of aging, you must pick the right roofing company to make the repairs. Of course, you're going to worry about the price. If your roofing project isn't covered by insurance, you need to be sure you're staying within your budget. But, price shouldn't be the only deciding factor. It's important to choose the right roofing repair company for many reasons. For starters, hiring someone who can't properly do the job will only cost you money in the long-run. If you hire a contractor or company that doesn't know what they are doing, you might have to hire a second team to come in and complete the job. In some cases, a second-team is needed to ultimately go in there and re-do half the work that was already done! This leads to costly bills and unnecessary expenses. The second reason you need to choose the right company is for safety reasons. If you hire someone who doesn't do the job the right way, you put yourself, your residence, and/or your business at risk of catastrophe. Having a safe roof over your head is important for many reasons. It doesn't just give you proper shelter, but it also protects you from the harsh elements of weather. Besides, improper roof installation can lead to serious danger if pieces of the roof come apart or fall off. Roof damage is inevitable and often caused by elements beyond our control. When you hire the right company, you don't just save money and ensure safety. When you hire the right company, you have the peace of mind that your project is completed the right way, and your investment was well worth every penny. So, how do you know what company to choose? Here are some great tips on how to pick the right roofing repair company for your next project!
How to Pick the Right Contractor for the Job
While you genuinely never know what will happen with a repair job, there are several things you can look for when you're ready to hire a roofing repair company. These tips will help you make the best choice for your project.
1.      Hire Local
You have a much better chance of success if you choose a local contractor. If anything goes wrong, they are more likely to be available and accountable. Most local businesses are well-established. They often have a good reputation within the community and can back up their claims with a portfolio of jobs they've already completed near you. They will also be more familiar with the local code regulations and have a better reputation with local suppliers. This usually leads to faster and cheaper project completion. When you hire local, you know you can contact your roofing repair company in the future if something goes wrong. They won't be gone as soon as your project is completed and nowhere to be found when you need to use your warranty if something goes wrong.
2.      Check Their Reviews and Ask for Referrals
Hiring locally also leads to this critical tip. Be sure to check their reviews online. Ask for referrals if they don't have enough online reviews. One of the best indications of company integrity and customer satisfaction is real-life customer reviews. If your potential roofing repair company has nothing to hide, they'll be happy to provide you with a list of local clients and completed projects.
3.      Check for Licensing and Insurance
A company that can be trusted will have insurance on all its employees and subcontractors. They'll also be happy to provide you with insurance certificates and work licenses for validation. If a company isn't willing to give you with this information, this is a HUGE red flag. Unfortunately, the laws set up to prevent unlicensed contractors from attempting to do work don't always stop them. Make sure your company has the proper state license and the insurance to cover any damages or injuries that may occur while they are doing the work on your property.
4.      Don't Choose Based on Price
Like we said earlier, price isn't everything. Of course, it will hold some weight, but it shouldn't be the deciding factor on who you hire. If there's a contractor or roofing company that is going in well below the other bids, you should mark them off the potential option list right away. Remember, professionals who come in way below the bids properly do the same when it comes to quality. You don't have to have to spend more money on another company or contractor to have to go in and fix someone else's mistakes.
5.      Get a Contract or Detailed Project Description in Writing
Remember, you need to cover yourself first and foremost. This is your project, and you should be in control. Be fully immersed in the details of your project. Before you choose a company, make sure they can provide you with a detailed project description in writing. Once you've hired them, make sure that's the first order of business and follow through if they don't deliver the documentation. It's great to feel like you can trust someone's word, but you should always back it up with documentation when you're working on a big project like your roof.
6.      Don't Be Pressured
There are some contractors who come across as pushy right from the start. Watch out for these guys! Anyone who pressures you to sign a contract might have a few tricks up their sleeve. A good, dependable, and trustworthy company will be confident enough to provide you with the information you need to make a decision then step back and allow you to choose for yourself.
7.      Keep the Lines of Communication Open
Communication is vital, especially when it comes to your roofing repair or replacement project. Discuss your expectations for communication upfront. Will the potential company return your calls? Will they provide you with updates? Do they follow through on their promises? Have they given you a project completion timeline? Communication is essential with any business deal you do. If a company isn't willing to communicate, they don't deserve your business. When you take a few extra steps to be sure you're picking the right roofing repair company, it'll pay off big time in the end. You need to be sure you're hiring a company you can trust to get the most of your project budget and provide a safe roof over your residence or business. For more information about your next roofing project, or for any questions you have about the process, get in touch with a trusted, dedicated member of our team today!